Warsaw: Legia supporters to cover UEFA fines
source: Legionisci.com; author: michał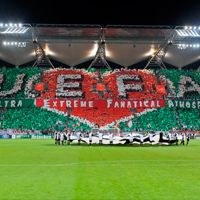 After unprecedented penalty by UEFA, Legia Warszawa supporters decided to chip in. Along with their club they reached an agreement that sees all ticket prices increase if the buyer expresses will to pay more.
Following this year's European games, Legia Warszawa was fined with €150,000 and one ghost game (another one suspended for the next 5 years). The penalty comes as a result of pyrotechnics use and what was interpreted as racism on several flags by Legia fans.
Ironically, Legia supporters agree that pyrotechnics are banned, but also claim each time the delegate of UEFA approved each of the flags in question before games. In the view of fans UEFA received reports by Nigdy Więcej, a self-proclaimed anti-racism group existing thanks to UEFA grants, claiming there is hidden racist symbolism within the caption.
Seeing the club's finances seriously affected by the €150,000 fine and lack of matchday revenue from October's clash against Apollon, fans from major groups agreed to offer help in covering the budget deficit. Each ticket until December will be priced 5 zloty higher (€1.25), on condition that the person buying it expresses will to pay the extra fee. All revenue gathered this way will go to recover part of the fine.