USA: Meet the world's new loudest stadium
source: Seattlepi.com; author: michał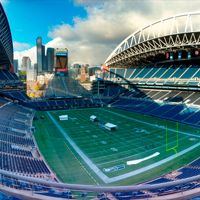 After months of preparations yesterday saw Seattle Seahawks fans beat the previous Guinness World Record by Galatasaray. The noise level was only slightly higher, but enough to make CenturyLink Field the world's loudest stadium by Guinness accounts.
How loud is the world's loudest stadium? At peak yesterday in Seattle the roar reached 131.9 decibels, only just exceeding the number by Galatasaray supporters from 2011 (131.76). Both numbers are impressive though, comparable to a military jet at take-off and above the level where ear pain begins.
The Sunday night attempt by a fan group Volume 12 was arranged already in July, because only in the presence of Guinness World Records representatives such an approach can take place. The group announced on its facebook page after the game it had set the mark late in the first quarter.
Worth keeping in mind, Guinness World Records is not a scientific and impartial institution, but a commercial entity. This means many stadiums across the world were never tested for noise levels.