USA: FC Dallas Stadium waiting for upgrades
source: MLSSoccer.com; author: michał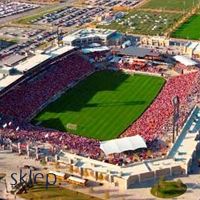 More shade – that is the goal and in the near future even 100% of fans should be protected from the hot summer sun of Texas. But with FC Dallas having their best season in a long time, the club may also increase capacity, according to MLSSoccer.com.
As FC Dallas are enjoying a great season, changes are discussed for their stadium. Average attendance so far (15,940) exceeds the record one from 2006 (15,299), when the ground was opened, back then called Pizza Hut Park. Even more, the club is inches away from setting a new all-time high for any FCD game, because the standing record from 1996 is 16,011.
No wonder the club is considering an expansion to the most vocal section of their stadium. The north end of FC Dallas Stadium has become the home to the most vocal supporters of the club over the last few seasons, and there is room to grow there as well.
"We still have room for expansion... they would not be permanent seats, they'd be more bleachers, but there is still room for us to add. I definitely would consider that because the Budweiser Beer Garden is spectacular and a great atmosphere," explains Dan Hunt, vice president of Hunt Sports Group that owns the club.
Hunt also disclosed to MLSSoccer.com that the club is working with renowned HKS Architects to cover their stadium. "The message I hear from the fans is that shade is king," Hunt told MLSSoccer.com recently.
"You're outside and these summers are very hot, so we're looking at different shade drawings that will satisfy those needs. There's nothing perfect because we can't dome the stadium, but there's actually a lot of studies that we've done...that will have 80% of the stadium shaded by 7:30 and 100% shaded by 8:05. I think that's a huge win for all of our fans."