Sheffield: Last major event at Don Valley Stadium?
source: BBC.co.uk; author: michał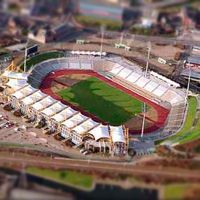 After September 30 the stadium is to be closed permanently, though some residents are applying to give it an important community asset status, which would prolong hope for Don Valley's existence. Meanwhile, last planned event is ongoing now.
According to plans of the Sheffield Municipality, Don Valley Stadium is to be closed on September 30 without any plans for new events. Later demolition is planned to relieve the city of large maintenance costs.
This means that yesterday's Sainsbury's School Games may be the very last major event to be held here, at the home of Olympic champion Jessica Ennis. With Rotherham United having moved to their New York Stadium, no football team needs the stadium and thus all costs are covered by the city.
In a last gasp effort to save the stadium, a group of residents applied for the status of 'community asset', which is a recently introduced form of protection for important buildings, also stadiums. So far this status has been approved for Old Trafford and Kassam Stadium. Decision concerning Don Valley is expected on September 25.