Rome: AS Roma announce new stadium in three years
source: ANSA; author: michał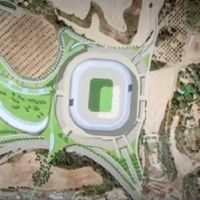 Piece by piece more details about the future stadium of Roma are being released. Latest information by club president James Pallotta include the deadline for work delivery in 3 years.
Work on the new AS Roma stadium has been ongoing for 18 months now and still it's only on paper. No wonder many fans are impatient to finally see at least full renderings of what they're waiting for.
So far only partial and blurred images were revealed in what doesn't seem to be a conscious communication strategy. On one hand renderings aren't shown to fans in Italy and on the other they're being released on giant screens in Toronto, where Roma recently played their pre-season friendly.
However, today one more detail was released by James Pallotta, club president. Pallotta assured the stadium in Rome's Tor di Valle will be ready in three years. This means that construction works need to start next year as the club already signed Parsitalia to deliver all works in 24 months.
The 55,000-60,000 capacity new stadium is being designed by renowned Dan Meis and will cost between €165 million and €210m.