Prague: Slavia stadium to undergo expansion?
source: Tyden.cz; author: michał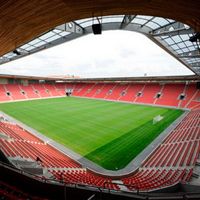 New owners of the stadium commissioned an analysis of potential expansion to Stadion Eden in Prague, Tyden.cz reports. Though this comes with no connection to Euro 2020, it may be a response to FACR's ambitions of host the tournaments.
Last year the stadium of Slavia Prague changed ownership after previous owners left almost CZK 250 million of debt. Though creditors (among them district authorities, main contractor Hochtief and Česká spořitelna bank) are still to be paid off, the company Vinet assures its new plans pose no threat to the stadium's sustainability.
Currently Vinet ordered Hochtief to run an analysis of potential expansion of Stadion Eden. No final capacity is known at this point.
The project came unexpected as Stadion Eden was sold out only a handful of times since its opening in 2008.
The stadium also isn't included in Czech Republic's initial announcement of a Euro 2020 bid. A completely new stadium is planned, but with no official bids being filed until late April 2014, it still seems possible for Eden to be the venue, should it exceed 30,000 after expansion.