Poland: Legia stadium closed until spring for pyrotechnics?
source: Wprost.pl / Legionisci.com / StadiumDB.com; author: michał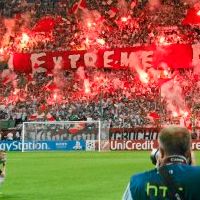 Extreme tensions arose in Warsaw, where regional authorities now threaten to ban supporters from all league, cup and Europa League games in 2013. The reasoning behind it isn't new, though.
Mazovian voivode (regional representative of central government) Jacek Kozłowski is considering a complete ban for Legia Warsaw, who might be forced to play all games until 2014 in front of empty stands.
This kind of sanction is almost impossible to find in any European countries as the threat comes after only pyrotechnics use during the Champions League game against Steaua Bucuresti. Or, namely, for this show:
Tension had been growing around Legia in recent months as the government ordered another campaign against football disorder nationwide. In this case, however, it's not about actual hooligans. Post-game reports show no signs of violence at the Steaua encounter. They only name use of prohibited flares, blocked stairways and similar problems.
Yet these very problems are described by Jacek Kozłowski as 'shocking' and police has filed for the voivode to close Stadion Wojska Polskiego for the upcoming league game against Górnik Zabrze. Decision is to be made tomorrow, just a few days before the match, despite already over two weeks having passed since the Steaua fixture.
The voivode followed suggestions by the Warsaw police and demanded that Legia apply for new event permissions for all of their upcoming fixtures. The club already has permission to host each game until the end of 2013, but Jacek Kozłowski demands for each game's status to be changed to 'high risk game'.
Legia refused, because this would mean extra security and police forces, no alcohol sale inside the stadium and other precautions. The club argues its stadium is among the safest in Poland and apart from the pyrotechnics no significant incidents occur to justify this draconian change.
Following the refusal voivode Kozłowski was quoted to say: "If the club doesn't apply for new permissions, I will have no other choice but to close the stadium. For the upcoming game and one after that and after that, unless club president Leśnodorski changes his approach. Because during the Steaua game he became a hooligan from the Żyleta stand".