Nuremberg: New stadium by 2020?
source: RAN.de; author: michał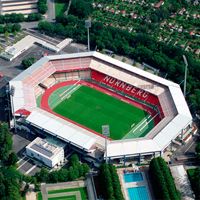 It's not the first declaration by 1. FC Nuernberg, but this time we know the estimated deadline for their new stadium. Feasibility study is under way and details should be known this autumn, according to RAN.de.
The famous octagonal stadium in Nuremberg may be history within the next few years. Parts of it are already listed as monuments, so implementing the changes planned by 1. FC Nuernberg may prove a challenge.
However, with the plan being a new stadium of similar capacity, but without a running track, it seams viable. Details of what can and cannot be done should be released this autumn, after a feasibility study is conducted.
The club hopes to deliver their new stands by 2020. However, there are still obstacles along the way. "The new stadium should replace its predecessor by 2020. But we need support, we cannot carry this out by ourselves", said Ralf Woy, financial director at 1. FC Nurnberg.
Currently the Grundig Stadion is one of just two grounds left with a running track (Berlin is the other one). The plan by 1. FC Nuernberg would follow similar changes done in Stuttgart and Bremen.