North Korea: Rungrado May Day to undergo thorough revamp
source: KCNA / Telegraph.co.uk; author: michał
While the UN reports famine in North Korea, Kim Jong-un has ordered a redevelopment of Rungrado May Day Stadium. The goal is to have a venue "befitting the appearance of a highly civilised nation".
While its official capacity stands at 150,000 and makes it the world's biggest stadium, actual capacity is a lot smaller after the opposite straight stand was turned into a stage, while main stand has seats installed. The size may further decrease as North Korea is expected to revamp their national stadium.
Kim Jong-un toured Rungrado May Day Stadium on Tuesday and admired the heritage of his ancestors. At the same time he found the current standard of Pyongyang's ground below expectations and ordered a redevelopment.
"He called for remodelling the stadium into an all-event stadium to be proud of ... so as to glorify the leadership exploits of the generalissimos down through generations," KCNA reported.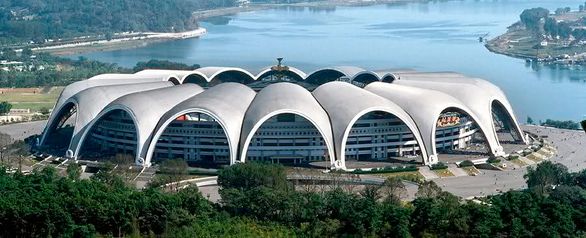 Kim ordered that new seating be installed and that rubber mats be fitted on the running track. The grass of the football pitch be replaced with artificial turf, he added, while advanced lighting facilities should be added to the stadium.
"He said it is the determination of the party to successfully remodel the May Day Stadium into an icon of sport facilities ... and into a stadium befitting the appearance of a highly civilised nation," KCNA reported.
The project comes just weeks after a UN report calling for urgent help to the people of North Korea affected by famine. According to the appeal issued by United Nations, some $100 million (€72.5m) is needed to secure critical needs of the North Korean citizens.