New stadium: Stadion Stali Mielec
source: StadiumDB.com; author: StadiumDB.com team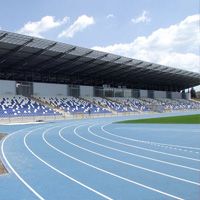 Old stadium in this place was opened with a 1:1 and the new one saw the same result in the opening fixture. Current stadium is only a shade of past glory, but in the dramatic tale of Stal Mielec this still comes as a happy ending!
Record crowd for the old stadium stood at 40,000 people. An amazing number if taken into account that we're talking about a 60,000-population town in one of the least urbanized regions of Poland.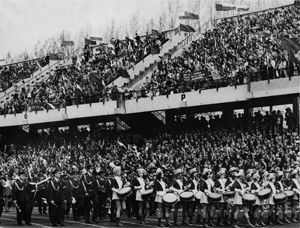 Then there's the story or Real Madrid, HSV and Lokeren all coming to face Stal, Polish champions by ideological selection. Stal (English: Steel) was to be the model club of socialist Poland, coming from an industrial town, with stadium located between rows of prefab-flats. Should someone before WWII name Mielec as the home of future Polish football champions, he would most probably be called insane – there wasn't even a professional club there until 1939.
And yet Stal didn't only manage to grab the title twice and supply the national team with top stars, the club was also able to remain in top flight for 25 seasons. As if this wasn't enough, the Subcarpathian side to date is one of just two that ever made it to quarterfinals of the UEFA Cup (or Europa League, currently).
How different is the situation now. Stal went bust in 1997, was dissolved and reborn, struggling in local leagues for years. Their stadium was falling into despair with every passing year and after the falling of socialism was a burden to heavy for the municipality to carry. So in 2007 it was decided, not without attempts to preserve it, that the old structure has to go. With Mielec having excellent financial condition, the city decided to run their largest project in years, downscaling their historical stadium that witnessed the mighty Real Madrid once.
The ground was closed in 2010 and work began in early 2011, scheduled for delivery in exactly two years. Upper tiers were demolished, lower ones partly replaced by new structures. Roof was built for the first time. What didn't change are the floodlight masts dominating the town's skyline since 1980. They were renovated and received new equipment.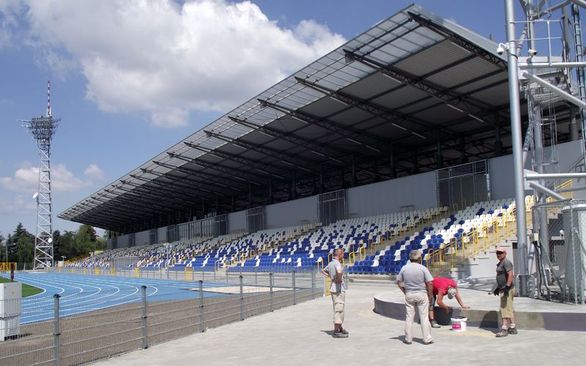 Photo: Paweł Galek, Super Nowości
Works didn't end on time, nor did the contractor manage to deliver the stadium for 6,864 people before the 2013/14 season opening – first season in 16 years played by Stal at central level, in the 3rd league (officially called II Liga). In a dramatic turn of events the club was clear to insolvency due to the stadium not being opened. First matchdays of the season had to be played away, depriving the still-struggling club of ticket and sponsorship revenues, leading to Stal's president resigning.
Finally last Saturday saw an end to the stress with 5,000 people, a number rarely seen in the II Liga, witnessing a 1:1 tie against Wigry Suwałki. The very same result was reached during the old stadium's opening, 60 years back. Will the new stadium also see its glory?