New stadium: San Mamés Barria
source: StadiumDB.com; author: StadiumDB.com team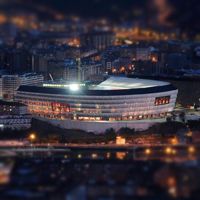 Although one stand is still missing, the stadium was opened yesterday with its first ever Primera División encounter against Celta Vigo. Athletic lost two goals, but made it up to the fans by scoring three.
The past weekend was a special one for Athletic Bilbao fans. On Friday morning the new megastore was opened under the stands of San Mames Barria. Later the same day fans could enjoy the very first open training session. Several thousand people took the time to wander around their long-awaited new home, succeeding the 100-year-old San Mames.
And finally, after two-day wait supporters of the Basque club were able to see their players in action on Monday night. The stands were sold out for the game, meaning that some 36,000 people came to the game. What they saw was a rather dramatic game with Celta Vigo scoring first, then equalising, but eventually losing to the home side 3:2. Here is the warm, but calm welcome for players entering the pitch:
The current season will be a transition for Athletic supporters as they will observe one more stand being built behind the southern goal. By the end of July 2014 the new stadium will already be 53,000 in terms of capacity and have a budget of €211 million.
The last stand will at the same time be the only one to stand on the footprint of old San Mames' main grandstand, one with the famous steel arch. Initially the arch was thought to be a possible addition to the new stadium, but as design was concluded without it, decision was made to transfer the arch to Athletic's centre outside Bilbao.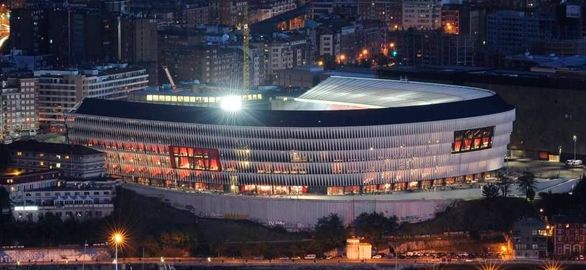 The new stadium is to work for its own identity with a gentle, but interesting cladding of white 'baleens'. Each of them is twisted and thus works not only for a visual impression on passers by, but also for ventilation and sunlight access to the promenades around the stadium. Only a few significant glassed parts are planned (not all delivered yet), all in red framing.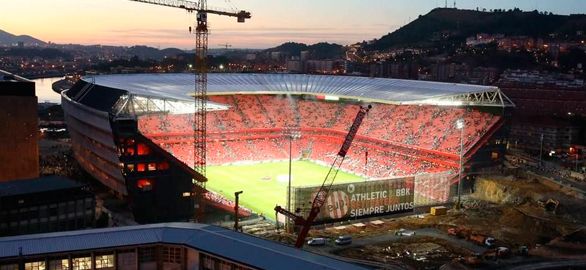 Also, which is very uncommon worldwide, almost all visible concrete structures inside have been painted with black or red paint,which combined with white exterior makes for all three colours of Athletic Bilbao.
Stands were divided into two steep tiers of seating divided by a thin balcony with premium seats. Interestingly, upper corners were filled with additional rooms for use of the safety and security hq or skyboxes.