Madrid: Atletico assures new stadium is going forward despite Olympic loss
source: Marca.com; author: michał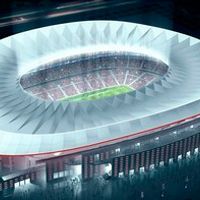 It was to be the heart of 2020 Olympics, but after Tokyo was awarded the tournament Madrid's dreams were killed. The stadium isn't, though. Atletico reassured that everything is being done according to schedule and the stadium should be ready in mid-2015.
Whenever we show you new photos from the construction site, we head comments that this may just be the slowest project under construction anywhere. So far the pace has been rather depressing, indeed. But the timeline for Estadio la Peineta was always very long, spanning from 2011 to mid-2015.
That very stadium was at the heart of all recent Olympic bids by Madrid and none of them succeeded. Still, municipal and club authorities reassured their commitment to delivering it on schedule. In fact, potential success in the 2020 bidding procedure would have impeded plans more, seeing the need to install a running track in what is a football-specific project.
Atletico officials regret the failure of Madrid anyhow, because it would mean a significant public fund boost to their project, especially the surrounding infrastructure and possibly even the stadium itself.
Currently first two tower cranes were installed on site and this year the stadium should reach ground level (currently underground parking lot is in progress), while in 2014 the superstructure is to be finished, leaving 2015 for installations and furnishings.