Euro 2020: Germany to give final place to Turkey?
source: StadiumDB.com; author: michał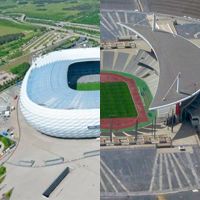 Did Tokyo's hosting of 2020 Olympics change the situation in Europe? Of course. Two major European agglomerations were left out without a key event in 2020. For this reason Germans are to back out from their bid to host Euro 2020 finals, allowing Turkey to fight for the spot.
In August Germany's football federation DFB announced Allianz Arena over Berlin's Olympiastadion as the sole candidate-venue for Euro 2020. The Munich stadium now has room for 71,137 people and StadiumDB.com understands it may still grow slightly without the need for significant structural changes.
This in turn allows Germany to bid for the most exclusive games of Euro 2020 – both semifinals and final, each of them requiring at least 70,000 stadium. However, DFB has earlier announced it would not submit a bid for that package if Istanbul gets rejected by IOC as 2020 Olympics host. Allianz Arena would now be bidding for the package of group games and one quarterfinal.
What may seem as a gesture of good will can prove the only sensible solution. It is commonly presumed that London and Istanbul are top contenders for the final and the German bid can compete with neither of these.
Apart from having Wembley and London itself as commercially successful hosts, England also have the history of football behind their bid. Turks on the other hand are the ones who lost most on the change from one-country tournament into pan-European one, because their bid for Euro 2020 was the only strong one submitted to UEFA. It is believed that hosting top games in Istanbul would be a consolation for the change.
All UEFA member federations now have time to submit their official declarations of interests for Euro 2020 hosting until this Friday (Sep 12). After that all interested parties will be discussed by the Executive Committee on Sep 19-20 and full bids are to be filed by April 25.