England: Contractor selected for Plymouth's new main stand
source: constructionenquirer.com; author: michał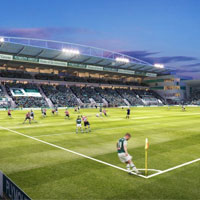 Worth some £10 million, the 4,800-seat grandstand is well on its way to be delivered within the 2-year deadline. Kier Construction has just been selected as preferred bidder for the construction contract.
The project named Higher Home Park has just gained its general contractor, Kier Construction. Right after being named the preferred bidders, construction company began seeking subcontractors on the local market.
Construction initially scheduled for September is most likely to move to October due to . The entire project is expected to be delivered within a 2-year deadline.
The project consist of Home Park's new main grandstand with 4,800 seats and corporate facilities (roughly £10 million), a hotel, indoor ice rink, retail alleys and a 10-screen cinema. Altogether the development costs some £50 million and is financed privately.