Belgrade: Half a century of Marakana
source: StadiumDB.com; author: michał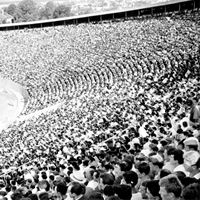 Red Star celebrated their stadium's 50th anniversary tonight. Free tickets and festive atmosphere were somewhat spoiled by events on the pitch, where little known rivals refused to lose with a last-gasp attempt.
At 7pm local time Crvena Zvezda began their league encounter against FK Donji Srem. It would have been a regular fixture, but Serbia's most famous team decided to use it for celebrations of Serbia's most famous stadium. The Marakana is now 50 years old.
The exact date of tonight's game didn't match one from 1963 (Zvezda defeated NK Rijeka 2:1 on September 1), but was close enough to launch celebrations. One of the biggest surprises for fans may have been the announcement from a week ago, declaring entry to the stadium free for everyone.
This came as an attempt to gather as many fans as the opening game. Back in 1963 some 55,000 people were recorded inside, which is exactly the capacity the stadium has nowadays.
Getting 55,000 people tonight was practically impossible due to away section occupying a significant portion of the stands. However, 37,620 people is still over twice the turnout Zvezda gets regularly and atmosphere was festive for most of the game, especially with this impressive tifo for starters:
By 55th minute Zvezda were leading 2:0 and in the 76th minute the result matched that from 1963, seeing Donji Srem score their first away goal of the season. Despite being on the opposite end of the league table the outsiders managed to spoil the celebration in the very last minute, equalising and pushing Zvezda to 4th position.
Still, with many legends of the club being present or properly commemorated before the game, tonight's game was still more than just a regular fixture. And if things weren't perfect, then it's somewhat like in 1963, because back then many people had to sit on regular land slope instead of stands. These were fully delivered only in 1964...