Amsterdam: Walker race for elderly citizens
source: dichtbij.nl; author: michał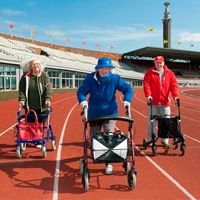 Yes, you read right. Of course it's not a regular race, but a catchy way to remind of good physical condition for the elderly. And quite fittingly the event is to be held at the 85-year-old Olympisch Stadion.
It's the first time we hear of an event like this and find it worthy of more attention. The grand old Olympisch Stadion in Amsterdam is to host an unusual walker walk or walker race for seniors in an attempt to remind everyone that physical fitness isn't just for younger people.
The event is to be held on Wednesday (Sept 18) and is open for everyone. Well, almost everyone. You don't have to pay or sign in, but must bring your own walker. Three distances are prepared: 400 meters, 1,000m and 2,500m.
Of course this is no regular race, but one expected to bring people together for a joyful afternoon. And all in the Olympic spirit of participation over competition. The sports part will be preceded by a free symposium about the importance of proper exercise for seniors.