Africa: Zambia national stadium ready for handover
source: AllAfrica.com; author: michał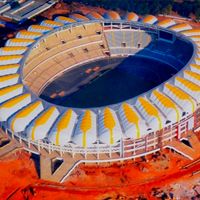 Built by Chinese workers, the country's new largest stadium is done three months ahead of schedule. It met surprising problems though, with water and electricity shortages not allowing proper operation.
National Heroes Stadium, as the new Lusaka-based stadium is called, will soon seat up to 60,009 people, becoming Zambia's largest sports venue. The Shanghai Construction Company delivered it three months ahead of the January 2014 deadline.
Ironically, contractors were so far unable to properly test all systems, because water and energy supply is too weak to support it. This news was brought to sports minister Chishimba Kambwili's attention on Thursday as he toured the ground. He was outraged to hear it and assured the case will be dealt with immediately.
The stadium will be handed over on October 15, when Zambia's national team will face Brazil in a friendly encounter. Interestingly, the game will be held in Beijing, not Lusaka, as part of an international tournament.