Turkey: Political protests inside stadiums banned
source: mideastsoccer.blogspot.com; author: michał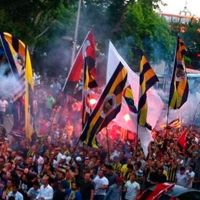 With Turkish supporters loudly reminding prime minister Erdogan of civil liberties, the government prepared a set of measures to stifle them. All under the slogan of counter-terrorism.
Turkish Prime Minister Recep Tayyip Erdogan's government has announced a series of measures to prevent football stadiums and university campuses from becoming major protest venues as the football season and the academic year begin. On many occasions the opening games were joined with anti-government demonstrations by supporters, reminding authorities of civil liberties.
In a series of recent statements aimed at students and militant football fans who played prominent roles in the mass Gezi Park protests in June, the government said it intended to replace private security forces in stadiums and on campuses with police forces; was banning the chanting of political slogans during soccer matches and obliging clubs to force spectators to sign a pledge to abide by the ban before attending a game.
The government said plainclothes policemen would mingle with militant fans during matches and that their activities on social media would be monitored. It also restricted the consumption of alcohol in stadiums.
The announcements were accompanied by stark statements by Mr. Erdogan, his deputy Bulent Arinc and his sports minister Suat Kilic as well as a video issued by the Anti-Terrorism Office and the police warning that protests were the first step towards terrorism. And terrorism (formally – belonging to an illegal organisation, which was described as terrorist) is the charge brought against 20 arrested members of Carsi, the ultra group of Besiktas.
The sports minister added that "if some groups try to infiltrate fan groups, they should know that Turkey is not a banana republic. We have fought terrorism for thirty years. We can handle this too. I do not want to be threatening, but you should know that it is not worth risking yourself and your team. Everyone must know that the law will be enforced. I hope that no one will be hurt, but this can happen. I am noting that there will be electronic monitoring in stadiums. Sports prosecutors will watch the games in stadiums, and we are introducing electronic tickets to monitor the seat of every supporter."
Read the full story at The Turbulent World of Middle East Soccer.