Pyrotechnics: The naked truth about body searches
source: StadiumDB.com; author: michał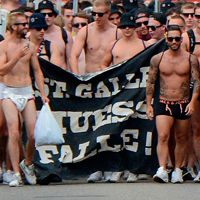 And quite literally naked as supporters of FC Basel proved their point by smuggling a lot of various pyrotechnics into the stadium wearing just boxers. Will this unusual protest change the authorities' reasoning? Not likely, but it's at least amusing.
The unusual initiative by FC Basel supporters became famous worldwide because of the below photo. But, despite how some media described it, it wasn't taken ahead of last weekend's FC Zurich home fixture in Basel.

Photo: Peter Moser/EQimages
The event took place in Sankt Gallen the week before, on August 3. Worth mentioning here is the fact of rather rough relations between the hosts and away following. Basel supporters were already treated harshly due to smuggling of pyrotechnics to AFG Arena, while in 2011 there was even a minor riot as police arrested one of 1,100 travelling fans for covering his face.
Last Sunday another big contingent arrived in Sankt Gallen, but this time they marched through the town in a rather unexpected manner. Protesting the strict entry controls many of the fans wore only their boxers (with shoes and caps, though).
Though they brought their numerous club colours, these weren't exposed during the march. The only two banners unveiled on their way were those against hosts (small one wishing St. Gallen prompt relegation) and against 'intimate controls'. The latter flag was a large one with the slogan 'Intimkontroll sinn wahn' (loosely translating to 'Intimate controls make only illusory sense').
Most of the press coverage in global football media stops here, completely forgetting what the point made by fans was. It turned out that despite vast majority of the fans wearing only their underwear, the travelling supporters still succeeded and smuggled a whole lot of pyrotechnic materials inside AFG Arena, making something of a small independence day celebration (which was two days before the game in Switzerland). See for yourselves: