New designs: Nizhny Novgorod and Moscow
source: StadiumDB.com; author: StadiumDB.com team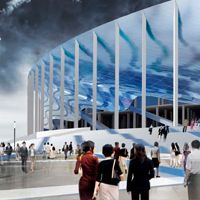 Yet another vision of a 2018 World Cup venue emerges, presenting a whirlpool form enclosed with a simple and monumental colonnade. Things are smaller in Moscow, where another, but this time fully covered stadium is planned to replace the old Torpedo Stadion.

New, updated concept of the Nizhny Novgorod retains the location set in 2012, in western district of Strelka, picturesquely set along Volga, but currently deteriorated.
Visually, however, the plan sees a lot of changes. Despite no details of cladding being disclosed so far, the stadium is to be wrapped with whirlpool-alike surface, which in turn will be limited by an external colonnade. Similarly to the wrap, access routes to the stadium are also to be spirally encircling the entire venue.
Seating layout has been divided into two tiers – lower one forming a sunken bowl of modest size and upper, much larger and more dynamic with its 'la ola' motive. The upper tier is to be cut along the pitch, leaving room for two levels of skyboxes.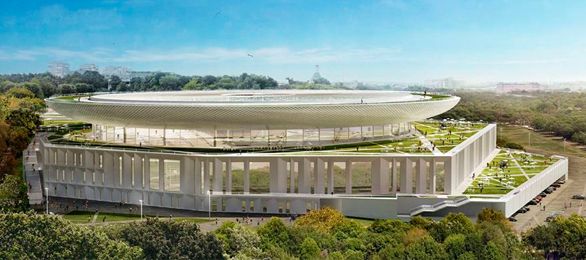 The charming sports complex on the bank of Moskva river in south-eastern Moscow is to be redesigned and rethought into a completely new place. In a private project by OPIN developers the site should be converted into a year-round event centre by 2018.
Future stadium's capacity is to be similar to the current one (over 13,000), but with permanent roof it would thus become Moscow's largest covered stadium and one of the best large event venues.
The plan envisages extensive commercial and leisure functions, but at the same time promises to respect the place's legacy by preserving Eduard Streltsov's monument, creating a football museum and largely recreating the public green surrounding it. To achieve the latter and allow the place to become Moscow's leading leisure area vast majority of the parking spaces needed are to be hidden under ground.