New design: Aranycsapat Stadion
source: StadiumDB.com; author: StadiumDB.com team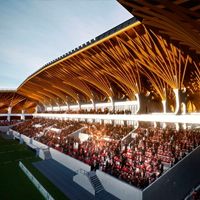 Amazing wooden roof and unique concrete structure are the key features of this ground, currently under construction in the suburbs of Budapest. It's not only intriguing visually, but also in terms of sustainability.
Why build a 3,500-seat stadium in a village of under 2,000 inhabitants? That may be what some critics used against this project, but if we take into account that this village is home to prime minister Viktor Orban and home to the national football academy named after Ferenc Puskas, it all makes more sense.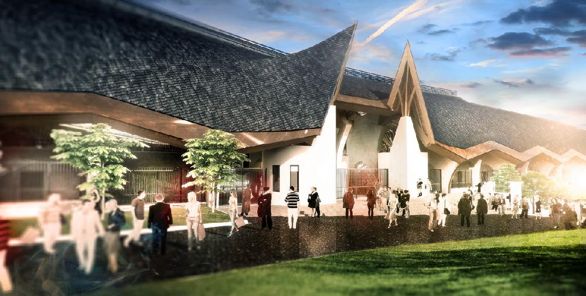 What also makes sense is the visual form of this stadium, as it was designed by architects of Imre Makovecz, famous Hungarian organic architecture creator. Thus the roof resembling an actual forest with dozens of branches sticking out of massive pillars. And while the pillars are concrete, all above them will actually be made of wood. Unique roofs are somewhat Makovecz's trademark, though he didn't live to see his first stadium, having died in 2011.
With the impressive roof structure, the stadium looks a lot bigger than it actually will be – capacity was set at only 3,500. But the structure's size was so imposing that it was decided to be partly sunken into the ground not to dominate the rural landscape.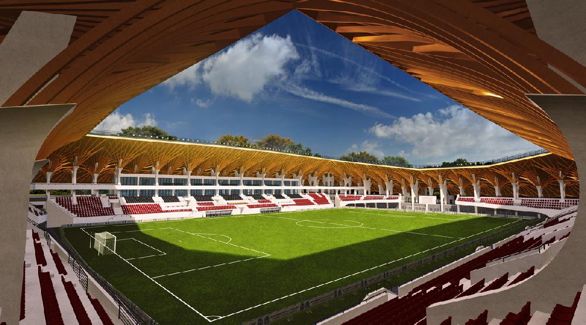 The project is priced at HUF 3.8 billion (€12.8m / $17m) and is already well under way, expected for delivery in 2014. Most of the concrete bowl and roof supports are done and wooden elements are already being mounted.