Munich: Bayern to play in silent Allianz Arena?
source: StadiumDB.com; author: michał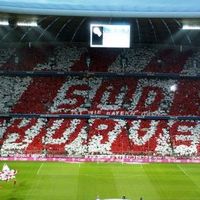 The Bavarian club is doing everything to kill all support it gets in the south stand – this was previously the opinion of fans, but they are now joined by journalists. Ahead of the new season vocal fans were given a clear signal that they are not wanted.
Bayern is to play its first home game of the 2013/14 season this Saturday. But despite amazing success last season, atmosphere at the club isn't as great as one would suspect. While atmosphere inside Allianz Arena may even get worse…
"In these circumstances we cannot be present as a group at Südkurve. Not because we want this. We simply have no other option as many of us and surrounding people cannot enter the block. So if no songs are heard on season opening day from the heart of the stand, it's not a boycott, it's simply the fact that those who cheered for years and travelled across Europe supporting Bayern weren't given a place here".
This sad quote from the Suedkurve-Muenich.org website represents sentiments among many active fans of Bayern. Why? The list of reasons is long.
Counterterrorist for supporter liaison?
It's nothing new for Bayern fans that their club has a very strict and uncompromised stance regarding active and spontaneous support. Some claim the club has been trying to make life harder for fans standing in sections 112 and 113 for some time. These are the only real standing sections at Allianz Arena (with no seats installed), where the club allows 1,800 people. And fans had to first fight for even these 1,800 places when Allianz Arena opened its doors.
To build a dialogue with the fans Bayern established a 'fan dialogue working group', theoretically creating a meeting point for various interests. However, in practice the club treated this as a crisis situation. Communication with these fans was assigned to Wolfgang Salewski, who is a renowned police psychologist and crisis management expert, famous for saving Lufthansa's plane hostages in Mogadishu over 20 years back.
What does Salewski know about fan culture? According to one of the leading supporter associations at Allianz Arena, Schickeria, this was never the question, because there was no dialogue. Schickeria Muenchen claim the working group had been created solely to present to fans decisions that were already made. Just like Schickeria, another fan organisation from the south stand, Club Nr 12 (both having thousands of members) sees the 'dialogue' with fans as a farce.
Dangerous (?) congestion
As mentioned, the central sections of Südkurve were allowed to hold 1,800 people standing, though supporters argue that according to national regulations it would still be safe for up to 2,500 people to be there. Yet their club claimed that 2,100 is already risky. Meanwhile, season card holders from nearby sections often visited 112 and 113 for its vibrant atmosphere.
For this reason, against supporter opposition, Bayern decided to install an extra line of turnstiles just for the two sections, calling it an attempt to ensure safety for people inside. While some fans call it a way of introducing 'total control' (the two sections are now fenced off from the rest of the stadium), facts are that now people from neighbouring sections cannot get to the core of home support. In return Bayern agreed to increase capacity of the two sections to 2,100. So a win after all? Not quite, because these 300 places were deducted from nearby blocks, according to Club nr 12.
Fanbase replacement
It's common knowledge that Bayern sells out Allianz Arena long before each season. This turns a theoretically insignificant change into a major one. Ahead of this season fans from the standing sections weren't able to prolong their season tickets, they had to fight for them with everyone else and as a result many of them didn't manage to secure a spot, while some room in the singing sections were potentially snapped by first-timers.
So, the 112/113 sections are fenced from other parts of the stadium, regular comers were partially unable to get in. What's next? Stadium banning orders, to name one thing. After last season the club imposed an away travel ban on some 400 people considered notorious. Not enough? Despite not playing even one home game in the 2013/14 campaign, the club already ordered 55 new bans on people attending the reserve-team derby against TSV earlier this month. While some may have been well justified, part of the banned group are people who had no charges filed, their names were just written down by police officers.
The club also didn't wait until supporters are sentenced before banning them for as long as two years. Presumption of innocence? Apparently doesn't apply to people who have charges against them. Fans at Suedkurve-Muenchen.de argue that should Bayern act this way against all members who have investigations against them ongoing, Bayern president Uli Hoeness should be the next one banned from Allianz Arena as he faces a tax-evasion scandal.
Fans see this as double standards and clear policy of supporter ousting from Allianz Arena, which was already a huge decrease in support compared to Olympiastadion. It seems fans aren't the only ones to see it that way. Michael Wollny of Eurosport calls Bayern's policy 'open-heart surgery without anesthesia' and sees the club officials waiting with champagne to pop until the patient finally dies…