England: Plymouth's stadium gains some charm
source: thisisplymouth.co.uk; author: michał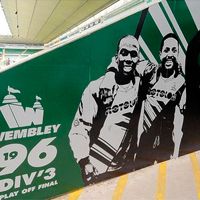 First murals arrived last year and this summer more were mounted on special boards to decorate the stadium and honour the traditions and success Plymouth Argyle enjoyed over the years.
What was originally intended to be a one-off in the Devonport End has now spread around most of the stadium. An initiative launched last August by Nik Barron, influential club sponsor and enthusiast, began with the idea of giving young fans a show of what the club achieved and represented over the years.
Due to high popularity and a long list of events to commemorate, this summer the action continued. Now fans may see images of famous Wembley games, past managers, legendary players and even fellow supporters. The new additions include one of famous Argyle fan from the 1980s and 1990s 'Noddy' and another of young Harrison Keen, who was caught on camera holding an inflatable banana and staring up at a steward at the away game against Rochdale in April.
Barron's sponsorship agent, Ian Newell, ensures all the background work is carried out and the designer of the murals is Darren James.
"The first couple were fitted in place in August 2012. They were so well received that we decided to include a few more greats of the club, and the Mariner/Rafferty mural came along soon afterwards.
"Then it was the top 11 players and manager of the century that we picked.
"Hence greats such as Paul Sturrock, Johnny Williams, Ernie Machin and Jack Chisholm adorn the 19-foot high emergency access at the corner of the Devonport End.
"That was meant to be the end of the matter but some of the Senior Greens sitting in the Lyndhurst Stand complained they hadn't anything but concrete to look at, so it was decided to expand into that part of the ground.