Canada: Edmonton's Commonwealth Stadium gets recoloured
source: StadiumDB.com / edmontonjournal.com; author: michał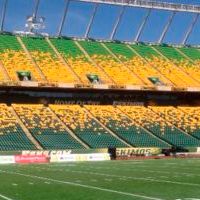 Red seats installed back in 1978 were all removed and changed to newer green and yellow ones. With new seating being more comfortable and space-consuming, capacity fell noticeably.
Ever since the opening in 1978 Edmonton's Commonwealth Stadium has always had red seats that were now changed to a green (two shades) and yellow mosaic reflecting the colours of Edmonton Eskimos football team.
The operation started in 2012 and ended just now, leading to one more change. Apart from colour, also the number of seats changed and capacity dropped below 60,000 for the first time. It now stands at 56,302 due to wider and more comfortable model of the seats used.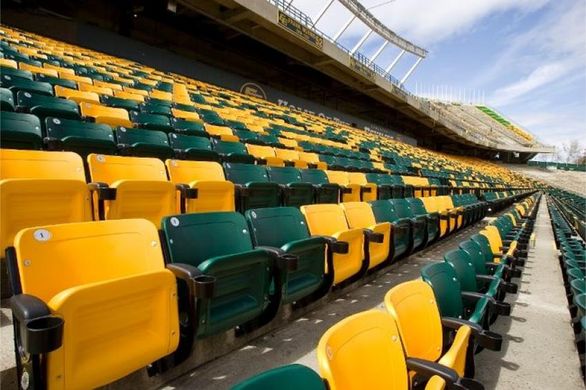 The new cushier seats come at a cost of $11.9 million, with $4 million being provided by the City of Edmonton while the remaining $7.9 will be raised through a five-per-cent ticket surcharge that was introduced in 2012.
The seat replacements are just one of the many upgrades coming to Commonwealth Stadium, which will host the FIFA U-20 Women's World Cup next year and the FIFA Women's World Cup in 2015.
The Jumbotron scoreboard and the stadium's sound system — both installed in 1999 — are being replaced in February next year at a cost of $5.3 million, with the city putting $3.3 toward the project. The city has also committed $1.9 million to upgrade the stadium's visiting team locker-room as well as build two new ones.