Washington: Preliminary agreement for new United stadium
source: WashingtonPost.com; author: michał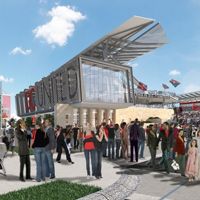 After a decade of waiting the case of DC United new stadium is closer to a happy ending. A $300 million project just received a boost. But it won't happen without the support of Washington DC municipality.
DC United executives and DC officials signed a preliminary agreement concerning the new stadium for the MLS franchise. Though established back in 1996 and among the league's most successful, United are yet to play their first game at home, in a football-specific venue.
Currently the team use RFK Stadium, but it's outdated, much too big and offers compromised viewing due to its baseball layout. As a result the club not only failed to build a solid attendance there despite major success over the years, but even started to decline with crowds of under 14,000 attending recently.
No wonder the agreement made many fans and club officers very satisfied. They hope to hold the first game inside new facilities already in 2016. The new stadium is to be built at Blizzard Point, on the southern waterfront and is possible in two variants. First one foresees a 20,000 capacity with possibility to increase over time. The other is a 25,000 stadium built from the start.
Entire project is expected to cost within $300 million. Half of the amount will be paid by the club and their partners and is to cover the stadium itself. Remainder will be the city's burden and will cover land purchase for the stadium.
The stadium is to cover four independent plots that DC needs to acquire before construction starts. With a tight budget mayor hopes to cover the expense with the sale of public plots around the city. This is where possible risk lies. Both selling land for private investments and buying the stadium land may be met with opposition from residents.
The agreement, regarded by many as an attempt to secure support by current mayor Vincent C. Gray ahead of next year's election, may also be subject to political opposition.