USA: Cowboys Stadium is no more, AT&T grabs naming rights
source: DallasNews.com; author: michał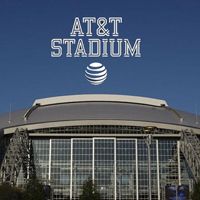 It's been speculated about for years and finally came to fruition – the deal worth $17-19 million per year will see Arlington's record arena called AT&T Stadium for… no-one knows how long.
When NFL's largest stadium was opening its doors, or actually glass walls, for the first time in 2009, AT&T were among those named first for naming rights contract. The company is local and is a technological giant.
But, perhaps due to unstable economy, nothing happened. This also means Jerry Jones, owner of Dallas Cowboys, didn't sell the name to anyone else.
Now the deal is sealed and was yesterday announced to be worth some $17-19 million (€12.7-14m) per year. The duration is unclear, but it is understood the deal is a long-term one, probably around 20 years. This could mean a total in excess of $300 million (€225m).
That may not be a record with Citi Field (baseball) priced at $20 million over 20 years, but some say additional value may be added with AT&T preparing numerous mobile apps and other solutions for Dallas fans, with revenue to be shared with Cowboys.