Sweden: Two grand openings of Tele2 Arena
source: StadiumDB.com; author: michał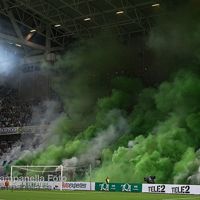 Two days, two games and two impressive shows at Tele2 Arena. What happened on the pitch is a different story, though, with both home teams failing to win in their inauguration.
As we already wrote, the previous opening of Tele2 Arena, despite being unofficial, was called off after a bomb had been found at the stadium. Whether it was a fans' provocation we don't know, but we do know that both sets of fans were eager to deliver a show on their opening games.
Saturday afternoon saw thousands of people in green-white colours marching down to the streets towards Globen complex, where their new and old stadiums are located.
For this very reason many Hammarby supporter think they have bigger rights to call the new Tele2 Arena their home than Djurgårdens, for whom this was never a place equally symbolic. Some supporters of HIF also think that the commercial name Tele2 Arena (until 2022 at least) isn't as good as Nya Söderstadion, as they nicknamed it to make a connection with the old one.
As the game against Orgryte ended goalless, not too much can be said about a home record, unless you mean one off the pitch. Crowd record for the stadium (obvious, it was the first game) and more importantly for the club has been set as the previous ground couldn't hold even half of Saturday's 29,175 people.
The more vibrant sections welcomed the move with a large pyrotechnics show that provided an early test for the stadium's natural ventilation. Worked rather well since the game was carried out without major disturbances.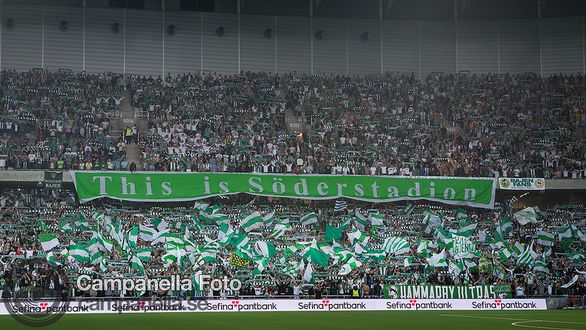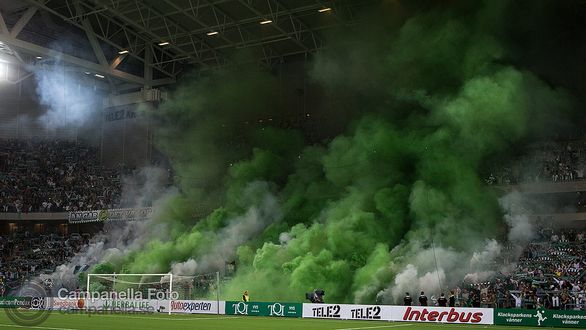 Then on Sunday a slightly smaller, but still almost capacity crowd of 27,798 people came for Djurgårdens' first encounter against Norrkoping. This time with goals, but not for the right team – away side defeated DIF 3:1, leaving them without points afterwards.
This time fans didn't light any pyrotechnics, but created a blue tifo covering the whole stadium, which you can see below.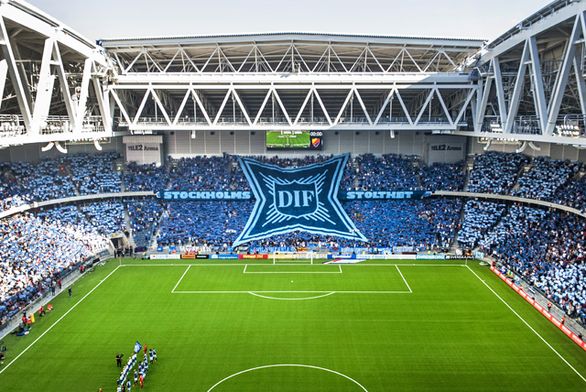 Interestingly, the new Tele2 Arena hasn't only got two terraced sections for vibrant fans of the home teams, but also two away enclosures. When DIF play host, away fans are allocated to the HIF standing side, while Hammarby's games see away fans located in the southern terrace, usually assigned to DIF.