Seattle: New noise record in September?
source: StadiumDB.com; author: michał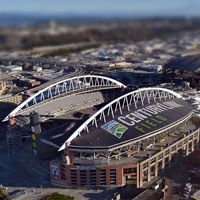 Currently the Guinness loudest stadium title rests in Istanbul, where Galatasaray supporters reached 131.76 decibels in 2011. But campaigners in Seattle will attempt to break that record as NFL season opens in mid-September.
Türk Telekom Arena remains the world's loudest stadium, according to Guinness World Records. Official attempt to break the record succeeded in 2011, when derby clash against Fenerbahce released the noise of 131.76 decibels from the 50,000-strong crowd.
However, as NFL season begins for Seattle Seahawks on September 15 (SF 49ers match), another bid will be examined. The notion has already been accepted and Guinness representatives will see that all is conducted thoroughly. The crowd at CenturyLink Field will be given up to 3 chances to become record-holders.
The level reached in Turkey is already beyond the moment when ears may begin to hurt (125 decibels) and not much below potential damage done to the hearing (140 decibels), making it an extreme competition even with short-term peak level.
Worth keeping in mind is the fact that Guinness World Records isn't the only body conducting or overlooking such attempts. Information of noise levels higher than the one in Türk Telekom Arena have been present for years, with local rivals Besiktas claiming a level of 132 was recorded at their old stadium several years back.