Saint Petersburg: Contractors to remain for fear of further delays
source: TheMoscowTimes.com; author: michał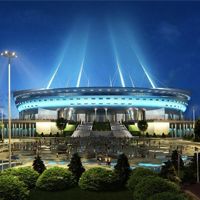 Although widely criticized, Transstroi will not be removed from the construction site after their contract expires this autumn. Replacing the company would cause even a year long delay in what is already the most ridiculed project of 2018 World Cup.
Governor Georgy Poltavchenko informed that general contractor Transstroi will not be removed from Zenit Arena's construction site after their deal ends this year. Contract is said to be prolonged until the very end of the project as fears of even more delays arise.
"Any tender means a delay for a year at least, but we can't suspend construction," he said, according to a statement on the Smolny website. The delay would be caused by necessary stocktaking on site and removal of all machinery before new contractors can move in. To add to that, any tender would last months and getting construction going full swing again would take the new company weeks if not months.
According to the governor current pace of works is very good and no further postponements are expected. This, however, sounds similarly to previous declarations about the 69,000-seat stadium, which was initially due to open in 2008, but is now on course for 2015 deadline.
The St. Petersburg authorities claimed at that time that the city would terminate the contract with Transstroi before the expiration date if no agreement on cost optimization were reached.
Poltavchenko also pointed out that the construction costs of Zenit Arena might be further reduced by leaving the interior design of the stadium's commercial space to future tenants.