Russia: Kazan Arena opened, Universiade begins
source: StadiumDB.com; author: StadiumDB.com team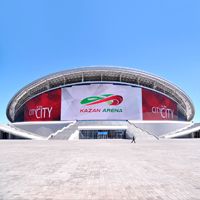 Largest stadium of Tatarstan and second largest throughout Russia (at the moment) was inaugurated yesterday with a breathtaking performance during Universiade opening ceremony. Still, it's not quite ready yet...
Corner stone was laid back in May 2010. After 3 years of construction yesterday saw the Universiade 2013 opening ceremony with stands packed, Vladimir Putin giving a speech and thousands of athletes experiencing one of the most memorable moments of their lives. It did come at quite some price, though, as Russians will pay for opening and closing ceremonies a total of $250 million (€195m).
No wonder that the 50-meter tall stage, weighing almost 470 tons, was shifting shapes and colours yesterday, revealing dynamic scenography at times, like a full-sized... tree. With numerous local traditions and stories presented, you may watch the entire ceremony below or just browse through it to see the most interesting parts.
The event was seen by a sell-out crowd of some 45,000 people, though one stands was entirely dedicated for young athletes, who could also enjoy the show after parading around the stadium. We would say it was one of the stands 'behind goal', but no goals or turf are installed so far.
This is expected only after the Universiade, during which no sports will be watched here. Later the Premier Liga side Rubin will move in to the second largest stadium in Russia.
Kazan Arena, named this way in early 2013, is commonly known as the 'lilly' for its blueprint, resembling a flower with staircases running around like petals, seen from above. But its history hasn't been all that flowery. Despite three years for construction, the stadium still isn't entirely ready with infrastructure of the east stand still waiting for finishing works. Also, the quality of work carried out isn't always best as concrete has sometimes failed to hold the seats, crumbling under them.
This isn't what one might expect from a stadium built with far higher budget than similar investments in Western Europe. Though initially planned at $330 million, the cost has later inflated to $450 million and has to date reached $465 million (€360m), representing almost €8,000 per seat. On one hand the expense is justified with high-end solutions like massive façade screen of 4,200sqm, but on the other hand, the stadium does have a significant amount of obstructed-view seats.