Rotterdam: Council support for new stadium uncertain
source: architectenweb.nl; author: michał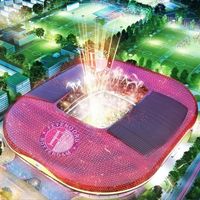 Though it seemed like all obstacles are gone, now a new threat for the 63,000-seat stadium arises. Support from coalition party D66 has been withdrawn, which means the municipal bank guarantee may not be approved.
The new stadium for Rotterdam's club Feyenoord is supposed to be a private project, but not entirely without public help. First, the city needs to buy land for €36 million and also invest €35 million in infrastructure to support mass traffic on matchdays.
But, perhaps most importantly, Rotterdam needs to grant Feyenoord bank guarantees for almost half the stadium cost, €165 million. This support is vital for the project to go ahead and it seemed some time ago that both the mayor and council members support the plan.
However, currently the coalition party D66 withdraws its support, crucial to approval during the vote. Two reasons are named.
Firstly, the plan is too risky and may see Feyenoord sink financially, forcing the city to pump public money to keep the new stadium and club afloat.
Secondly, D66 aren't convinced about the supposed benefits that Feyenoord promises will come with the new stadium – economical boost, new jobs and sport development.