New designs: Krasnodar and Vladikavkaz
source: StadiumDB.com; author: StadiumDB.com team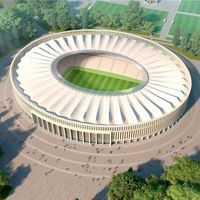 These may not host the 2018 World Cup, perhaps even as training venues, but they're going to make a very decent addition to the Premier Liga, once ready. One is already in progress, the other awaits for construction to begin.

Already in 2011 the second largest club of the city, FK Krasnodar, employed renowned GMP Architekten to design their new stadium. It was even announced at an early stage, that a retractable roof is part of the scheme. Eventually this wasn't included, though.
Early renderings were shown in 2012, while preparations and foundation works started on site in early 2013. Its stands are to accommodate 36,000 people in a football-only layout despite the ground's oval bowl.
The stadium was thought to become a training venue during 2018 World Cup, but its chances went slim after Krasnodar was eliminated as host city.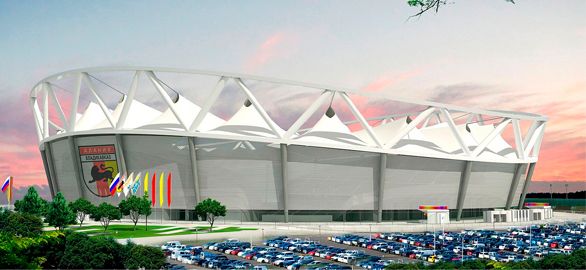 Presented in July 2013, the concept of new stadium for Alania Vladikavkaz was created by turkish iki design group. The idea envisages stands of 30,000-35,000 (preferably 32,000) divided into clear sections, with side stands having double tiers, while those at ends being single-tiered.
Initially construction of a new stadium in Vladikavkaz was planned to begin in 2011 and end in 2014. However, problems arose that held the project back. Currently, providing that Turkish architects supply the documentation on time, groundbreaking is expected in spring 2014.