New design: Hazza Bin Zayed Stadium
source: StadiumDB.com; author: StadiumDB.com team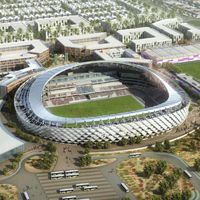 It's very expensive and original. And it's almost done already! The new stadium for current Emirates champions Al Ain FC is expected to become exemplary for the Arabian Peninsula.
Currently Al Ain's central stadium is the multi-use one named after Sheikh Khalifa Bin Zayed, laying just east of the centre. However, despite its renovation in 2006 it no longer meets the expectations of local authorities and the domestic champions, Al Ain FC. The city 150km east of Abu Dhabi, close to the border with Oman, is getting a new venue, this time only for football, right now.

It wasn't triggered by regular ticket demand, as football games in the Emirates are still not the top choice for entertainment. However, the premium, corporate demand hasn't been served best at the existing stadium.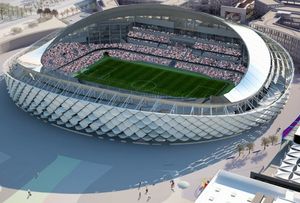 Thus the unique layout of new stands. With capacity of only 25,000 seats, the stadium has three tiers along the pitch, one in the corners (however, topped with pavilions overlooking the pitch) and two behind goals. Altogether there are some 3,000 VIP seats at the ground, while infrastructure behind the seating bowl exceeds that of most stadia by far.
Began in mid-2012, the work carried by Dutch company BAM is in its final stages right now. Last roof truss was mounted in late June, while currently all of the membrane is installed, presenting the elegantly contoured lines of the roof. Grass is already growing and should be usable for games in just 3 weeks. However, delivery date is set for December as cladding isn't done outside, while installations and furnishings are being done inside.
The project with very tight time frame of just 16 months will be accompanied by an office building, training complex and a residential estate, parts of which are already under way.