London: Fayed warns new Fulham owner not to remove Jackson statue
source: Guardian.co.uk; author: michał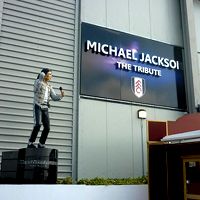 Passing his beloved club to new owner, Mohamed Al Fayed warned Shahid Khan to respect the Michael Jackson statue near Craven Cottage. In return he heard that fans will first be asked.
On Friday the transaction (estimated at £200 million) between Mohamed Al Fayed and Shahid Khan saw Fulham FC change owner after 16 years. Former Egyptian owner wore fake mustache for the meeting, trying to look like the new one.
During press conference the issue of Michael Jackson statue was raised. Mohamed Al Fayed threatened to shave Khan's mustache if he removes the monument.
The successor didn't want to jump to conclusions. "I've been an owner less than a day. We have to preserve and respect history – but we have to move forward. I'll reflect on it and listen to the fans. Then I'll decide."
Fayed had the monument fitted into the exterior of Craven Cottage in 2011, paying tribute to the deceased star. Yet many fans weren't pleased with the idea. Jackson was never a fan of Fulham and only once visited the stadium. Moreover, he was engaged in running a different club, Oxford United.
Shahid Khan also has heard some criticism over his other club's recent decision to add VIP swimming pools overlooking the pitch to the EverBank Field.