Glasgow: Celtic threatens fans with Section 111 closing
source: StadiumDB.com; author: michał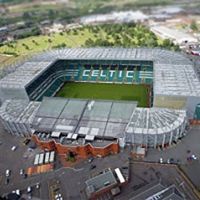 UEFA will look into the actions of Celtic supporters as three fireworks were set off on Tuesday. Celtic already threatened to close the ultras section, but not for the same reason. Club's fears concern actions that are considered very decent support in other countries.
The Champions League qualifier between Celtic and Cliftonville at Parkhead was nowhere near of a republican-loyalist battle as the Northern Irish rivals also presented Irish flags in their section. Yet serious safety issues were raised, or at least the club considers them to be serious.
UEFA will now examine what happened in the stands after three fireworks were lit. This is a regular procedure for pyrotechnics use inside stadiums and the club may be fined, though rather slightly compared to Eastern-European counterparts.
The irony is that Celtic and the municipal Safety Advisory Group are afraid of different actions. Both institutions have 'serious safety concerns' over fans being more congested than they should, occasionally blocking staircases, moshing (pushing) each-other in what may seem to be a brawl at first sight or even crowd surfing, like at rock concerts.
The club informs of 131 seats being damaged during the game, a number extremely high if taken into account that the Section 111 occupied by the Green Brigade supporter group is under 1,000-strong.
"Following the events of last Tuesday's match, the Club's position was to close Section 111, but following discussions between the Club's Supporters' Liaison Officer and representatives of the 'Green Brigade' that decision has been reviewed and the section will remain open. However, the situation will be monitored at both the Celtic FC v Borussia Monchengladbach match on Saturday 27th July, and the Celtic FC v IF Elfsborg match on Wednesday, July 31." the club statement reads.
Most of the 'threatening' actions can be seen in the attached video of Section 111 on Tuesday night: