Fandom: Sezgin Özcimbomlu
source: StadiumDB.com; author: michał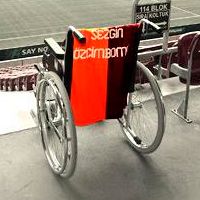 There's hardly any supporter who attended Galatasaray games at either old or new stadium who doesn't know him. He changed his name for Galata, painted his house for Galata, escaped from hospital for Galata and literally lived for Galata.
His journey following Galatasaray began in early 1980s. He was 14 when first went to Ali Sami Yen and since then he did whatever possible to be at every match, home and away.
The fact that he was moving on a wheelchair since the age of 16 didn't discourage him, even though he was paralysed after a fall inside the stadium. Worth keeping in mind is the fact that in 1980s disabled supporters were very few, while Sezgin travelled to cities hundreds of kilometres away.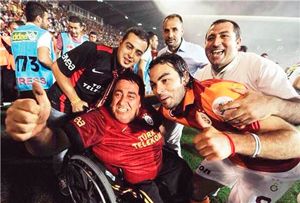 Over the year his status has grown to a quasi-celebrity at Ali Sami Yen. Coaches talked to him, players fell into his arms after goals, journalists asked him for comments. Before matches he used to approach each stand, making a round to lead the support.
His story is full of anecdotes, of which some are probably exaggerated, but others have been confirmed. He painted his house in Galatasaray colours, while marrying his wife in 2006 the couple had to be wearing Galatasaray jerseys and finally in 2008, after months of struggle, he managed to change his name to Özcimbomlu, meaning 'true Galatasaray fan' (Cimbom is the club's nickname). What he didn't manage to change is the date of birth, which he wanted to state 1905, the time Galata were formed.
Suffering from heart problems, he suffered an attack several years ago, after which he was operated and had a stent installed. Still, his biggest concern was the fact, that Galata were playing on that day and yes, he managed to see the game, even if barely alive and almost purple of exhaustion.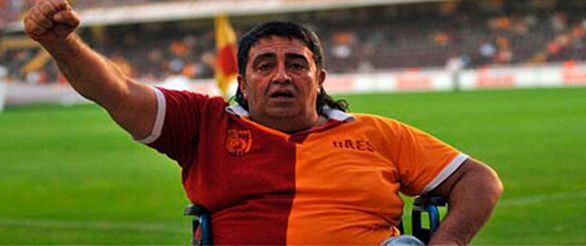 On June 25 he suffered from another heart condition. After three days in intensive care Sezgin passed away, aged 46. His funeral was attended by thousands of people, among whom politicians and football officials were present. Not even mentioning fans of Fenerbahçe and Beşiktaş paying tribute along their arch-rivals.
It's hard to find any media in Turkey who wouldn't report on his death and farewell, whether it's TV, press or internet. The hashtag about his passing was one of the most frequently used on Twitter, paying respect to one of the club's biggest legends. His absence at the new stadium of Galata is very overwhelming with the club-coloured wheelchair left empty.