Barcelona: More details about new stadium in late 2013
source: FCBarcelona.es; author: michał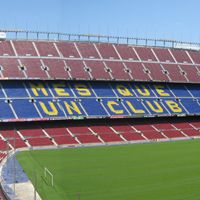 There are still three options possible and each of them needs to be carefully examined before being subject to referendum. Whichever is chosen by socios, can only be carried out if FC Barcelona manage to reduce their debt by over 30%.
Barcleona's financial vice-president Javier Faus announced new information about the possible revamp of Camp Nou. On Tuesday, speaking of the club's finances, he assured that the project can only be done, when the club manages to reduce debt from €331 million to 200 million. However, with revenues short of €500 million this shouldn't pose a challenge.
Feasibility of the project is also dependent on the analysis of the three possible options. All of them are still on the table and though one is more advanced, all are said to be solid. The mentioned options are: building a new stadium on Camp Nou's blueprint, renovating Camp Nou or building a new ground in a new location.
Each of the options is still subject to technical, economical and feasibility studies before being proposed to the socios in open vote (2014). Details should be released around November or December 2013.
According to Faus the new stadium is necessary for Barcelona to compete in terms of matchday revenue with Europe's remaining top clubs. Currently Camp Nou delivers lower income than other top stadia despite being Europe's largest football ground. After the redevelopment matchday income should grow by €20-25 million.