Africa: Protests forced name change at Zambia's national stadium
source: LusakaTimes.com; author: michał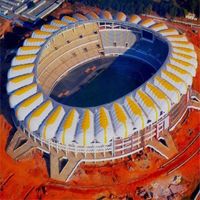 Just days after the officially approved name was announced, government and president backed out of their decision and listened to the people. In a widely praised move they changed the name on Friday.
After nationwide criticism in social and mass media, authorities in Zambia agreed to modify their proposal for new national stadium's name. As we wrote on Wednesday, the initial proposal approved by both the government and president was 'Gabon Disaster Heroes National Stadium'.
The proposal was intended to honour those deceased in 1993 Gabon aircraft disaster that saw the entire national team and staff perish while on their way to Senegal.
However, many commentators and largest supporter associations argued that the name honours only a limited number of heroes Zambia has and should remember. Also, the name had been described as too long and impractical.
Listening to the outcry, president Michael Sata and the government agreed that the criticism is just and since the people expressed their will clearly, the name was changed immediately to Heroes National Stadium.
The 50,000-capacity ground is undergoing final phases of construction in northern Lusaka. The project, expected to be delivered shortly, is parto f so called 'stadium diplomacy' by Chinese authorities, who have built new stadia in vast majority of African countries.