USA: Pitch-wide screens in Philadelphia
source: csnphilly.com / lincolnfinancialfield.com; author: michał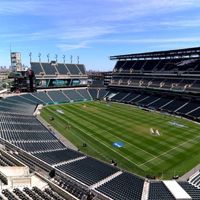 Though designed for American football, this stadium also hosts 'soccer' and will soon have even better conditions for both disciplines. New giant screens will really be giant – both as wide as the pitch. More high-tech additions are planned, as CSN informs.
Lincoln Financial Field may be just 10 years old, but a lot has changed during that decade. More spectacular stadiums have opened their doors and most importantly, the 'fan experience' issue is given more consideration now.
This is why a $125 million (€95m) redevelopment plan was introduced by stadium hosts, Philadelphia Eagles. Though NFL will also contribute to the project, vast majority of the cost will be covered by the club itself.
Most importantly, it's not about capacity, as only 1,600 seats are planned in three modest sections filling the corners. All of them will be premium balcony seating, setting capacity at 69,194 seats.
Most of the funding is to cover the high-tech additions. Largest ones, physically, are the screens behind goals, both of which will be extended compared to today's equipment and will cover the entire width of the pitch.
Also, all 172 suites at the stadium are to be renewed and redecorated, increasing the commercial potential of 'Linc'.
There's more for regular fans, too. Better access with new turnstiles at ground level and pedestrian bridges at the upper tier that will allow to walk around the entire stadium without walking down the stairs, first time ever. All fans will also enjoy free wireless internet access.
Due to various events taking place, the changes are to spread over the period of 2 years, with design being carried out by Gensler Architecture and construction to be done by Turner Construction.