Singapore: Record dome closer
source: ChannelNewsAsia.com; author: michał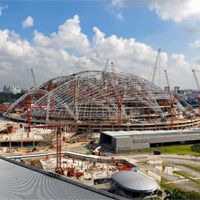 It's 80% ready and in a month will become self-supporting. Giant dome structure over the stands of Singapore Sports Hub is growing every day and will soon be getting the retractable panels, according to ChannelNewsAsia.com.
Its largest arches measure 310 meters (over 1,000 feet), beating Cowboys Stadium's main trusses significantly and earning the new Singaporean national stadium its second record after being the most expensive public-private project worldwide.
The dome is now 80% ready and will face its first test – standing alone. Until now the superstructure has been supported by large pillars, which will gradually be removed until July. The removal will allow contractors to finish 55,000-capacity stands, so far lacking their lowest tier to make way for roof supports.
In October installation of two retractable roof segments begins, marking perhaps the most challenging phase of this development.
Since early 2011, when piling began on site, workers have carried out over 15 million hours of labour. And despite the project being very advanced and challenging, work isn't delayed. This means delivery in March 2014 and opening in April are still the target.