Rotterdam: City to Invest €90 million in sportpark around new stadium
source: fd.nl; author: michał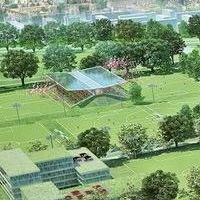 Rotterdam city council supports the investment in one of Europe's biggest sport excellence centres, planned around the new stadium. Interestingly, decision about the stadium itself isn't officially confirmed yet, according to fd.nl.
A large complex of football pitches, some with modest stands, an athletic stadium and residential/educational facilities for students – these are the most important elements of the vast sportpark planned around Feyenoord's new stadium.
The complex, together with alterations done to transport links (€36), is thought to be worth €90 million, which will be funded by the municipality. This project is expected to give Rotterdam facilities unmatched not only domestically, but also throughout European countries.
Though the sportpark received its support, the new 63,000-capacity stadium didn't. Or at least formally. It is expected that decision to grant financial guarantees for roughly 50% of the new stadium's budget (over €300 million) will be made in the summer.