New stadiums: Three from Poznan and one from Świebodzin
source: StadiumDB.com; author: StadiumDB.com team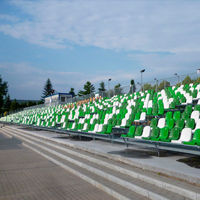 They're not really new, but show a lot of Greater Poland's football history. Amazing floodlight masts at Olimpia, vast wooden benches at another neighbouring stadium or modest and newer stands of Warta and Pogoń? You choose!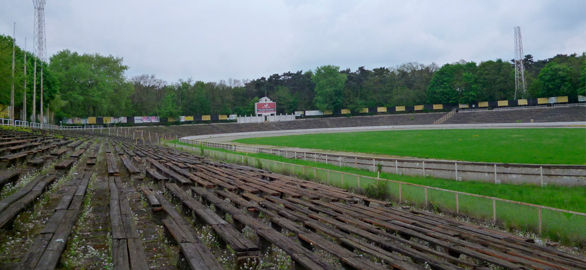 Photo: Sebastian Spychała
We had a tough nut to crack with this stadium, but decided to add it to our database in the end as it may still hold events, of course after proper upgrades. These are planned after the ground becomes public property in 2014 (currently owned by the police).
The northernmost venue of the vast Olimpia complex in Poznan's Golęcin is also the largest stadium to be built here. Finished in 1954 it had the capacity of 20,000 people back then and this hasn't changed much as neither seat installation, nor any significant redevelopments were taken.
Once equipped with 1,800 lux floodlights, the stadium now has only the steel masts standing, with lamps demounted. Up to 2011 it was used for football and speedway, but both clubs (Poznaniak for football and PSŻ for speedway) left it deteriorating further.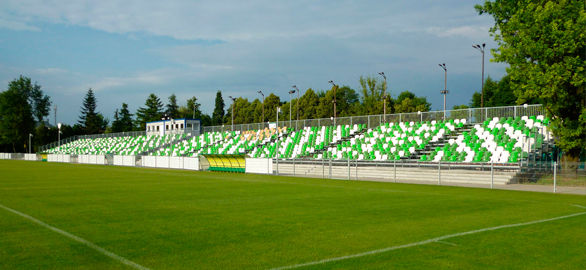 Photo: Sebastian Spychała
The stadium located at Droga Dębińska, popularly referred to as Ogródek (The Garden-plot), was initially built as a secondary training pitch for the massive Stadion Edmunda Szyca, just outside Poznan's historical centre. However, as the large ground fell into despair in late 1990s, local club Warta had to move.
Due to lack of resources and poor choice of alternative venues (the large Euro 2012 stadium proved too expensive), Warta eventually decided to stay at Ogródek for years.
Built with only one flat stand in the west (with under 2,000 capacity), the stadium needed improvements and until 2013 received several other seated sections, all on temporary tubular structures. Altogether the capacity rose to over 4,500.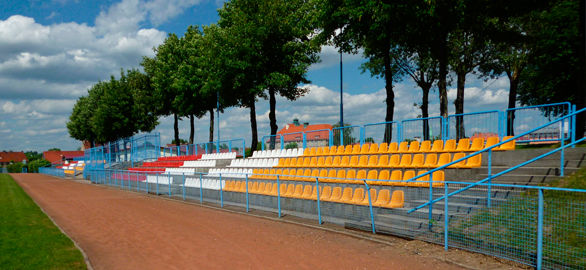 Photo: Sebastian Spychała
Construction of Świebodzin's main stadium was completed in 1955. Modernised several times in following decades, it went through conversion to all-seater mode in 1995, later receiving an electronic scoreboard at one end.
Two training pitches are located next to the stadium.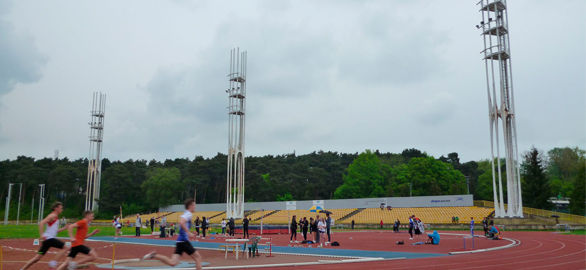 Photo: Sebastian Spychała
The stadium was built along with several other sports venues in 1956. It's the only one of three stadiums in the complex, belonging for over half a century to the police, which went through a thorough revamp in 1990s, receiving floodlights and seats.
Western stand with a tall referee tower consists of modest tubular seating sections, while the opposite side is based on sloped land. The stadium has hotel rooms and tennis courts adjoining.
The stadium serves athletic events for the most part, while football and speedway games are played just meters north, at a bigger stadium.