New stadiums: Regensburg, Hildesheim, Siegburg
source: StadiumDB.com; author: StadiumDB.com team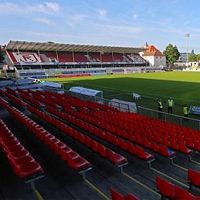 One of them was the site of 1972 Olympics, or at least the football tournament's matches. All of them date back to the times, when football stadiums without athletic tracks were a rare sight in Germany…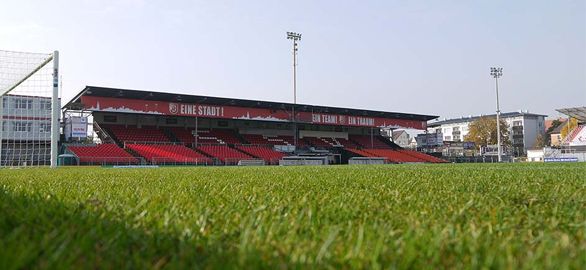 The stadium just outside of Regensburg's historical centre was established in 1926, but became an actual stadium in 1931, with its main grandstand. Remaining three sides were given modest terracing, which did well to cope with demand until late 1940s.
In 1949 first expansion came as the club SVV Jahn was growing and reached the very peak in 1950, with a record crowd of 30,000 people. Still, in the 1950s average turnouts of over 10,000 were quite common.
Further decades weren't equally fruitful. The club's position deteriorated and so did finances – Jahn sold their stadium to the municipality in 1975 and weren't given a thorough renovation until 1987, when floodlights were inaugurated.
Further growth of the club after 2000 led to new additions – first two temporary stands in 2003 (in front of the main section) and then a new north end in 2012, with both seating and standing.
Despite the financial efforts minimum capacity for 2. Bundesliga weren't met. League authorities made an exception for Jahn as local constraints prevented further expansion at 12,500. For the very same reason construction of a new stadium is planned.
Apart from hosting the SSV Jan games, the stadium also saw matches during the 1972 Olympics.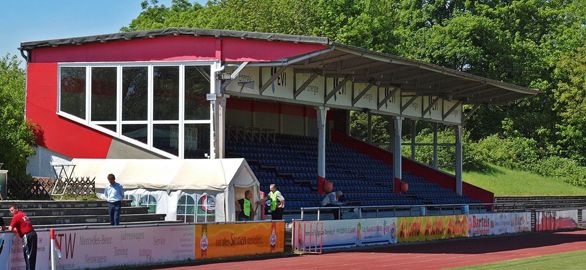 First stadium in this location, west of the Hohnsensee lake, was built in 1930 and served athletic events. The current venue dates back to 1945 and retained most of its historical form.
The modest main stand with wooden roof structure holds 670 people on individual seats and was renovated in 2011, when the stadium gained its own VIP area. Remaining spectators may use terracing of up to 18 rows on three remaining sides of the stadium.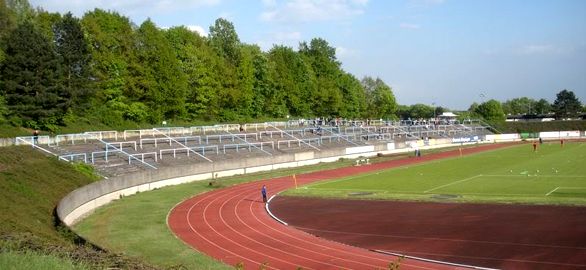 The stadium in Siegburg (between Cologne and Bonn) was built with C-shaped stands, without terracing in the west. Due to limited demand capacity is currently down from its initial 12,500 to 5,000, with curve terraces being covered in vegetation.
Stadium tenants are Siegburger SV 04, a lower-league club whose offices are located just outside the terraces, south-east of the stadium.
The stadium's name is dedicated to local entrepreneur Walter Mundorf, who passed away in 1998.