Munich: Almost all Bayern games sold out… again
source: bundesliga.com; author: michał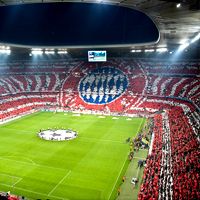 If you're a Bayern fan, you need to be fast. The 2013/14 season is already sold out almost completely, despite players not even beginning their pre-season training camps. Only one fixture still has some seats left…
There's only one team that most fans of Bundesliga clubs really don't want to see, TSG Hoffenheim. And Hoffenheim is the only rival, against whom Bayern hasn't sold out Allianz Arena for 2013/14 yet. But make no mistake, it's not because of the antagonism, it's simply because Hoffenheim only just won their relegation game and will stay in the Bundesliga.
For each of the 16 remaining home games Bayern has received from 80,000 to 140,000 ticket requests, a stunning number that makes Allianz Arena's recent capacity increase from 69,900 to 71,000 look miserably.
It's not only one more season that has been sold out before beginning at the iconic stadium. This streak means that Bayern has sold out every single game since moving from Olympiastadion in 2005!
Last season there were some 1.2 million fans at Allianz Arena. Also worth noting is the away-game form presented by Bayern fans – they haven't left any ticket unused last season and this may also be the case this time round.