London: Brentford FC submit planning application
source: theconstructionindex.co.uk; author: michał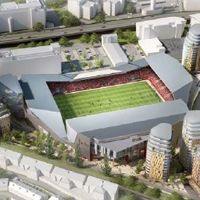 After 15 years of looking for opportunities, the Bees are finally going forward with their latest planning application for new stadium, theconstructionindex.co.uk reports. Due to the unique shape of their plot, the stadium would be very distinctive.
Though declared to be submitted in late May, the planning application was filed just now. This isn't a big difference, if Brentford FC get a green light on their project. After all, it's been well over a decade since they've started analyzing what can be done with their cozy, but constrained Griffin Park.
The preferred solution is a new 20,000-seater stadium at Lionel Road, built together with a significant residential development of 910 apartments. The residential part would have been bigger, but during various consultations in recent month the height was seen as potential issue, thus forcing a slight downscale.
Due to the unique, triangular shape of the Lionel Road plot, the stadium's shape is also an unusual one. Stands of varying height and layout would be covered by irregular geometric roof, providing a very characteristic stadium.