Liverpool: Planning permission to be submitted in the summer?
source: DailyMail.co.uk; author: michał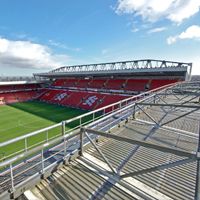 LFC are hoping to acquire all houses for the planned redevelopment of Anfield already this summer and begin their planning application route. So far buying back homes from local residents wasn't too easy, Daily Mail reports.
Since Liverpool FC announced in October 2012 their plans to stay at Anfield rather than build anew in Stanley Park, no solid information about progress was released. While the plan of expanding Anfield to 60,000 by adding seating in the west and north is one of the most anticipated in Premier League, not even mentioning thousands of people on LFC's season ticket waiting list.
The project, worth some £150 million hangs on all local residents potentially affected by future shade of the taller stands selling their houses. British law prohibits expansions that block sunlight to housing and thus forces LFC to acquire the houses nearby, closes of which stand just several meters away from Anfield.
So far the process was a difficult one. Some residents have complained that the club didn't approach them properly or offered a price below market value of the properties.
And though the situation isn't close to perfect yet, LFC assure they're making progress. 'We are in an interesting period in terms of our aspirations around the stadium,' said Ian Ayre, Liverpool's managing director.
'Our goal is to extend Anfield but we need certainty and that comes with the acquisition of properties. Real progress has been made in acquiring them. Once they have all been acquired we will go through the planning process.
'We would expect to be in a position to make that a certainty this summer.
'Once planning has been achieved then we can start construction.'