Italy: Cagliari to return to Is Arenas?
source: forzaitalianfootball.com; author: michał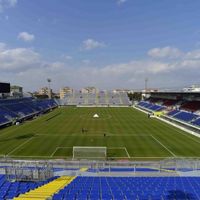 Cagliari's Stadio Is Arenas has been granted permission to be modified this summer and the club could return to the venue for next season, forzaitalianfootball.com informs. This seems to be the homeless club's only hope for a stadium of their own in 2013/14 campaign.
After a series of scandals during the completed season Cagliari Calcio became homeless in early April, leaving the troublesome Stadio Is Arenas, mostly consisting of temporary tubular stands.
They played the remainder of the Serie A campaign on neutral ground after previously being ordered to play behind closed doors in the structure that didn't meet all safety standards, according to authorities.
To add to that, club president was even arrested due to an investigation into the stadium, and was charged with embezzlement and a myriad of other charges.
Authorities have now agreed to allow renovation to take place on the Is Arenas, and if certain areas can be improved, the club will be allowed to return to the stadium. The improvements needed are on the fans' access areas to the ground and providing space for disabled fans.