Innovation: Cruiser + Stadium = Crusium
source: StadiumDB.com; author: michał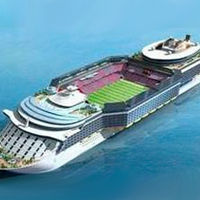 We've already seen a floating stadium vision, but this time it's stadium incorporated into a ship. Korean STX shipyard wants to make a fortune on this idea.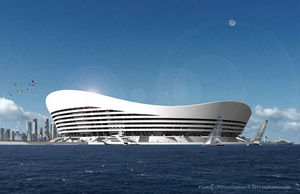 It's been over two years since the first vision of a floating stadium was presented (left). That idea by the Stadium Concept team showed an actual stadium with temporary esplanades that can be installed in docks to allow temporary presence in one city before moving to the next one.
This time it's not the case. STX shipyard recently presented a vision of luxury liner with a stadium incorporated into the design.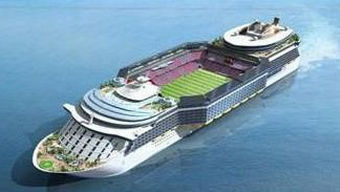 This means the vessel can not only be used as temporary stadium once stopping at a specific location, it's also a cruiser once en route. Thus the name Crusium (Cruiser + Stadium).
Though Koreans assure that staging of mass events is also possible while on the move, it raises some safety questions that still need to be answered.
The answers may be found, though, as the shipyard is pushing to further work on what they already presented.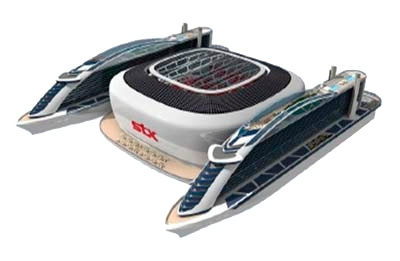 There are two variations of the vision. One envisages a medium-sizes stadium (some 20,000-25,000) incorporated into a traditional liner. The more ambitious and futuristic idea sees a regular big stadium with two adjoining ships, resembling a catamaran. The latter vision is primarily addressed at Qatar ahead of the 2022 World Cup. STX are sure of selling at least one, hoping for some $840 annually of the project.