England: Over 50 clubs support safe standing trials
source: FSF.org.uk / Independent.co.uk; author: michał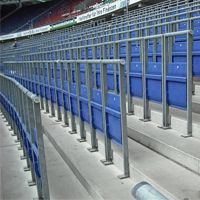 Last week's general assembly of The Football League brought another sign of support for 'safe standing' in football grounds. Now league authorities are to examine and report, what steps may be taken in this direction.
For thousands of fans campaigning for the introduction of safe standing inside stadiums recent weeks have been very optimistic. First in May the vote among Championship clubs gave a massive support for tests of the rail seating systems, with 21 clubs (out of 24) in favour.
Now another vote gives grounds for optimism. During Friday's annual general meeting of The Football League's 72 clubs over two thirds of chief executives voted in favour of running trials for safe standing solutions.
So far league authorities have been reluctant to change their defensive stance towards standing at football games. However, now there is an expectation the League will "start lobbying in the right places", according to one chief executive, who added that Greg Clarke, the League's chairman, had told him "we will make enquiries". "It's got the will of the people," said the chief executive.
The Premier League is much more skeptical about the proposed solutions for standing, though some clubs of the top tier have already expressed their support for such means, to name Aston Villa, Cardiff City, Sunderland, Swansea City and West Ham United.