England: Construction for Bristol Rovers to start in September?
source: gazetteseries.co.uk; author: michał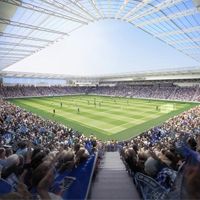 Rovers chairman ?Nick Higgs confirmed that agreement is in place and if no opposition to the new stadium is found within 3 months, construction may begin in September. Gazetteseries.co.uk report.
Thought the project has a slight delay already, it should finally go forward now, as the Section 106 agreement is signed, providing the approval for University of West England Stadium. As Nick Higgs announced, he expects work to start soon.
"When those three months have passed, we will then be free to start work on the UWE Stadium project," he said.
"I share your frustration with the delays in concluding this agreement. However, without any further delays, we should be on site at the end of September.
The new 21,700-seat stadium should be ready in first half of 2015, not in initially planned 2014. Still, the club should be able to move from Memorial Stadium for the 2015/16 campaign, allowing for the old stadium to be demolished and transformed into a Sainsbury's supermarket.
Meanwhile South Gloucestershire Council has approved plans by the University of the West of England (UWE) to redevelop the campus next to the planned stadium.
Councillors granted outline planning permission for the scheme, which will see the university consolidate its three campuses on a single 136-acre site.
The proposal includes a 200-bed hotel, transport hub, extra student accommodation for the 3,500 undergraduates who live on site, a business school and improved pedestrian and cycle routes through the site.